Cold Sculpting
Cryolipolysis also known as "fat freezing" is a procedure that involves the non-invasive cooling of body fat to break down fat cells, resulting in a reduction of body fat without damage to other tissues.  Intense freezing of the treated area causes adipocytes to progressively die off and be eliminated by the liver. A few weeks after a treatment, dead cells are being eliminated from the body while others are condensing, resulting in a gradual reduction of the unwanted fat deposits over a period of 2 to 4 months.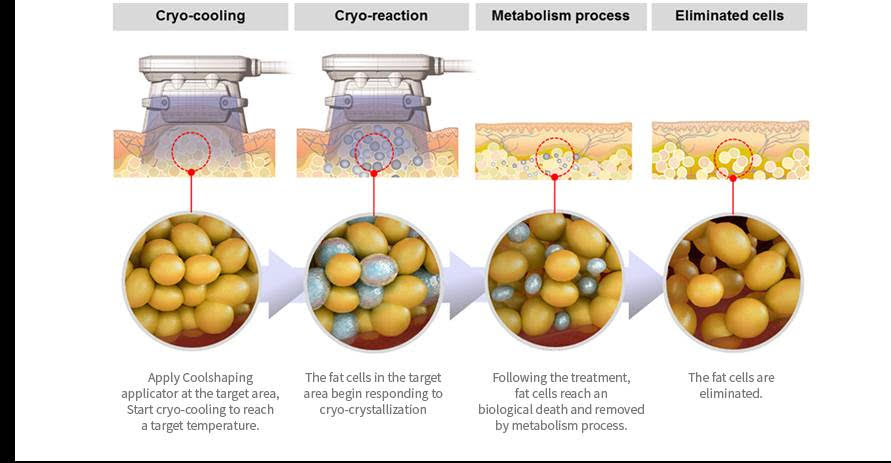 An health history form will be sent to you prior to your appointment, please carefully and answer all questions truthfully.
On your first visit our technician will make an evaluation, answer any concerns or questions, photos and measurements will be taken.
A protective membrane will be placed on every treated area as well has the cryo-cooling handles. 
Treatment time is 50 minutes, the sensation of cold and pulling will be felt (this can be uncomfortable for some).  After 15 minutes the body becomes numb and most clients rest.
Once your 50 min is up a 2 minute massage of the treated areas will help eliminate fat cells.
DURING A TREATMENT
Sensations of pulling, tugging, and mild pinching.
Intense cold, tingling, stinging, aching, cramping. These sensations subside as the area becomes numb. (approximately 10 minutes)
IMMEDIATELY AFTER A TREATMENT
Redness and firmness.
Transient blanching and/or mild bruising around the edges of the treatment area.
Tingling, stinging and or burning sensation (can be very painful for a few minutes)
ONE TO TWO WEEKS AFTER A TREATMENT
Redness, bruising, and swelling.
Tenderness, cramping, and aching.
Itching, skin sensitivity, tingling, and numbness.
Numbness can persist up to several weeks after a treatment.
OTHER POSSIBLE SIDE EFFECTS (VERY RARE)
There are some rare side effects that have been seen both in clinical studies and commercial use:
PARADOXICAL HYPERPLASIA: Visibly enlarged tissue volume within the treatment area, which may develop two to five months after treatment, possibly even after a visible result is noticed. Surgical intervention can be required for correction.
LATE ONSET PAIN: A typical onset several days after a treatment and resolution within several weeks.
FREEZE BURN ("frostbite"): First and second degree freeze burn which may occur during treatment. It typically resolves without additional side effects with proper care.
VASOVAGAL SYMPTOMS: Dizziness, lightheadedness, nausea, flushing, sweating, or fainting during or immediately after the treatment.
SUBCUTANEOUS INDURATION: Generalized hardness and/or discrete nodules within the treatment area, which may develop after the treatment, and may be accompanied by pain and/or discomfort.
HYPERPIGMENTATION: Dark coloration of the skin may occur after treatment. Typically, it resolves spontaneously.
HERNIA: Treatment may cause new hernia formation or worsen preexisting hernia, which may require surgical repair.
Do not use Cold Sculpting if you have the following:
» Cryoglobulinemia
»Paroxysrnal cold hemoglobinuria
»During pregnancy or lactation
Use caution before performing localized cooling under the following conditions, the effects of which have not been studied:
Known sensitivity to cold such as cold urticaria or Raynaud's disease
Impaired peripheral circulation in the area to be treated
Neuropathic disorders such as post-herpetic neuralgia or diabetic neuropathy
Impaired skin sensation
Open or infected wounds
Bleeding disorders or concomitant use of blood thinners
Recent surgery or scar tissue in the area to be treated
Hernia in the area to be treated
Skin conditions such as eczema, dermatitis, or rashes in the area to be treated
The effect of performing treatments directly over active implanted devices, such as pacemakers and defibrillators, is not known
Where Does the Fat Go?
With the Cold Sculpting treatment, the targeted fat cells freeze and die. Afterward, they are naturally eliminated by the body's metabolism.
Are the Results Permanent?
When the treated adipocytes (fat cells) disappear, they are gone permanently. As long as you maintain a healthy diet and lifestyle, your results will remain.
How Many Sessions will I need?
While you will see up to a 17-25% fat reduction in the treated area after a single treatment, the amount of treatments depends on the your desired goals and the area being treated.
Can you treat my double chin?
Yes, cryolipolysis can easily treat fat deposits visible under the chin.
Is the Treatment Painful?
Some discomfort and pain can be felt, usually right after the treatment.  During the treatment many of our clients fall asleep or relax.